Bear Arms N' Bitcoin Conference
Now September 19th & 20th in Austin, Texas
Come hell or high water, Bear Arms N' Bitcoin 2020 is taking place on Saturday, September 19th and Sunday, September 20th in Austin, Texas!
This two day event will feature top innovators in freedom technology and will have talks, demos, and time on the gun range to strengthen your financial and physical sovereignty.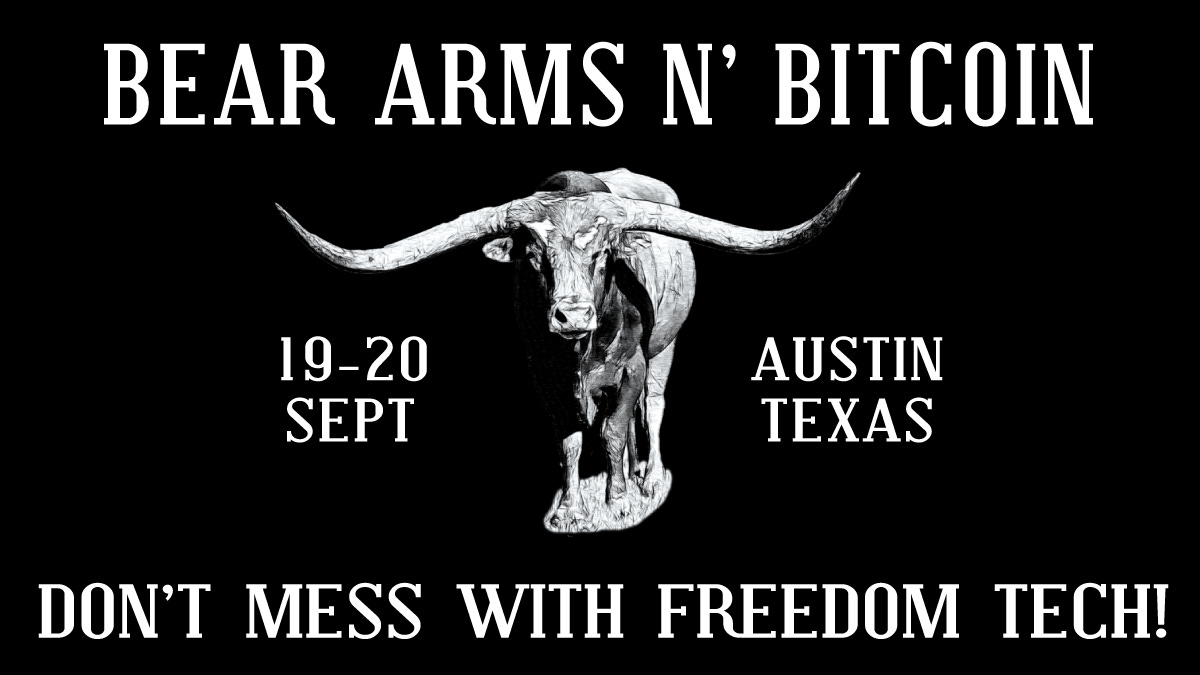 Why Did We Move The Conference To Austin?
For three reasons.
Covid-19 Restrictions
Oregon continues to restrict private gatherings. They've been one of the most conservative states for lock downs. Whereas Texas has been comparatively less strict and is allowing private gatherings of our size. As long as social distancing, mask wearing, and hygiene strategies are maintained.
You
Texas is centrally located in the US, making it more financially and logistically accessible to a greater number of people.
Gun Control
Oregon and Portland have hostile guns laws which put into question some of our plans. Texas however, is gun friendly, allowing us for freedom for conference activities.
Two New Speakers!
We've added more Bitcoin, 3D gun printing, and freedom commerce content.
New Presenter: DiverterBTC.
Diverter is an agorist who practices and teaches on obtaining non-KYC bitcoin and protecting one's crypto privacy with coin mixing and other tools. Diverter mines bitcoin because they're free of KYC attached surveillance. He wrote a comprehensive mining guide for regular people, which he will share at the event. He'll discuss coin mixing.
New Presenter: Jessica Solce
Jessica is the Director, Producer, & Editor of the acclaimed documentary No Control. No Control explores the early days of 3D gun printing, focusing on Cody Wilson and Defense Distributed. Jessica will join a panel discussing how 3D printing has evolved to present and give unique insights she's gained while producing her next film on the subject.
Discount Code
As a thank you for subscribing to this newsletter, use promo code BNB2020 to save 10% off of registration.
Safety and Logistics
To prevent the spread of the Covid-19 virus and to comply with local and state law, we will follow social distancing guidelines, have sanitation stations, and will require attendees to wear masks. We might have other policies based on circumstances.
If you had bought plane tickets to Portland, airlines will refund the cost or transfer it to a new flight if you tell them it was due to Covid-19. Feel free to share this newsletter with them.
Opportunities to Participate
First, we'd like to thank our media partners En Bloc Press and Kommando Blog for their support of Bear Arms N' Bitcoin.
We have opportunities for you to be a sponsor or have a booth for a very reasonable price. Please contact us for further information.